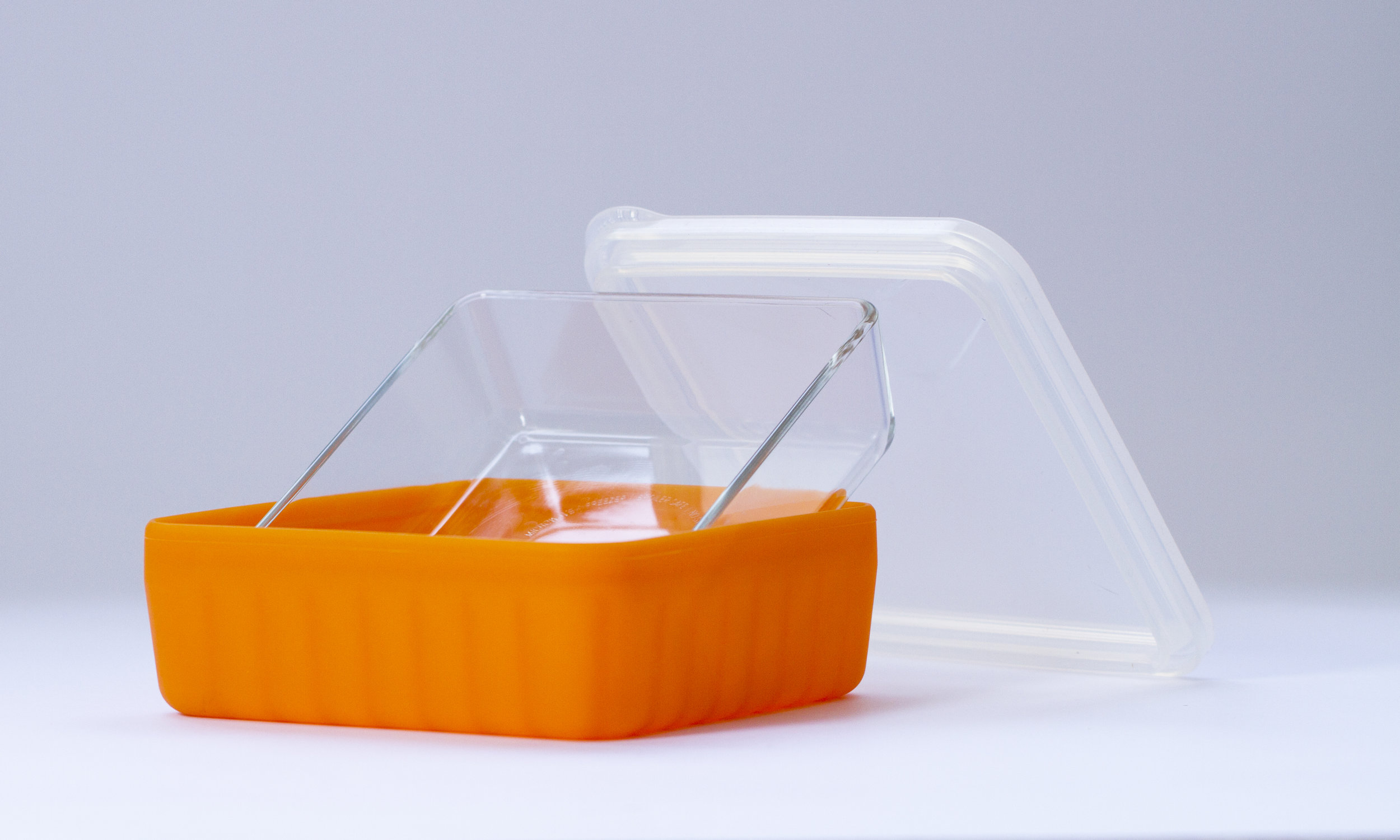 Glass Bowl
Silicone Lid
Silicone Sleeve
Revolutionary Design, designed by a mom with moms in mind.
Frego never utilizes plastic, only glass and food grade silicone

Dishwasher safe

Patented and Award Winning

No BPA. No PVC. No Polystyrene. No Lead.
Healthy for your family, and healthy for our planet
Product Dimensions
2 Cup: 2 cup/500 ml/16.9 fl oz. size is perfect for lunch on the go, a sandwich or cup of soup
Dimensions: 5.25 x 5.25 x 2.5 in., 1.4 lbs

4 Cup: 4 cup/1 L/33.8 fl oz.
Dimensions: 7.25 x 7.25 x 2.5 in., 2.1 lbs
Our Innovative Design
Frego's unique silicone and glass food storage and preparation containers are the safe and healthy choice. With translucent silicone lids and four great colors – Blue, Orange, Lime Green, Honeysuckle – Frego is durable convenience with a conscience. Made from toxin-free materials by socially responsible manufacturers, Frego is freezer, fridge, microwave, oven and dishwasher safe.
SoftSnap™ Silicone Lid
The double-seal SoftSnap™ lid prevents spills and protects food from spoiling by creating a virtually airtight seal with both the glass bowl and the silicone sleeve

The see through lid, made from our proprietary easy clean silicone is dishwasher safe

Always vent before heating
Silicone Sleeve
Patented air-space cushion design reduces heat transfer, protecting hands from potentially painful burns

Grippy silicone won't slip out of your hands or slide off the table

Variety of vibrant colors

With the lid on, if you drop it, the air-space cushion design makes Frego virtually spill proof and incredibly break resistant.
FEATURE: Feel free to write on the silicone sleeve with a Dry-Erase marker. Wipe clean with wet paper towel.
Frego Glass
Store and heat foods in the glass container

Keeps foods fresh and sits snugly inside the silicone sleeve

Frego's borosilicate glass offers better thermal range than most commonly used consumer glass products available today. Frego glass is safe from -40 °F up to 500 °F

Heat in the microwave or oven, and with the silicone sleeve, transfer it to the table without worrying about burned fingers or scorched table tops

Manufactured to exacting standards, Frego glass is lead free, break resistant, and exceptionally durable
Ready to stop using harmful plastics in your home?